COLOMBIA – All machines fight rust.
South Carolina's women's basketball adjustment on Wednesday, after an eight-month layoff, quickly undid it.
The best-ranked Gamecocks started the season with a 119-38 loss at the College of Charleston, extending their school record winning streak to 27 in front of a crowded crowd of 3,500 (limited because of COVID-19).
Gamecocks now head to South Dakota for a three game tournament this weekend. Coach Dawn Staley, looking forward to this moment since the pandemic hindered her chance to hang a second national championship flag at Colonial Life Arena, was thrilled to be back on the court, but had to look at the vision of a coach.
The result was never in doubt, not with three starters, including candidate for National Player of the Year, Aliyah Boston, playing for her. But it was different.
There was no more Ty Harris as a point guard, a four-year-old holder who dazzled with elegant simplicity and instinctively knew for whom, when and where to pass, even if he had never seen a clue. The same goes for the fierce passion of Mikiah Herbert Harrigan, a striker who started every game last season and was just as lethal with his rebounds and post-jump shots as he was with his explosive temper.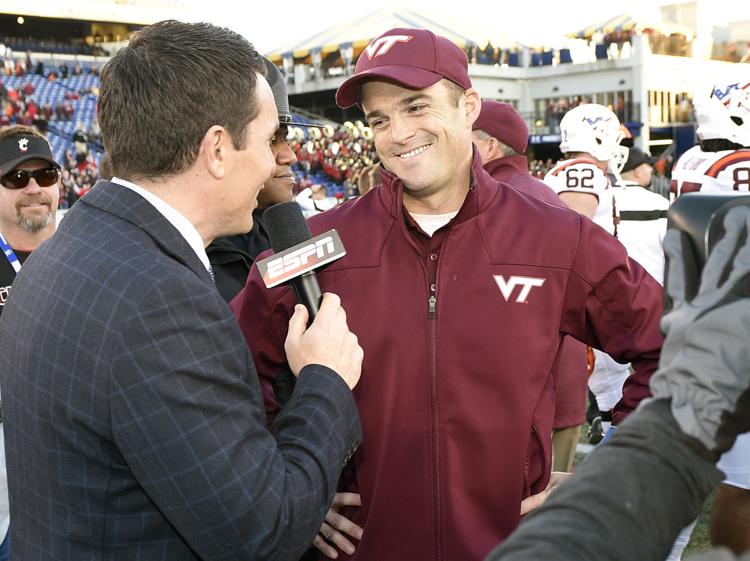 Different does not mean bad. As much talent as Staley knew she had last season, she was putting three freshmen on the starting lineup. There was no telling how it would work, since even the legendary A'ja Wilson, the current WNBA MVP, just started a game as a freshman (and it was not a good one).
Staley's experiment worked well. Very well. Boston was a unanimous national freshman of the year, while Zia Cooke and Brea Beal combined with Harris and Herbert Harrigan to post a 32-1 record.
This year, there was no curiosity. The chemistry remained intact despite losing Harris and Herbert Harrigan, the team filling their vacancies and at least remaining constant with their mantra "all for one, one for all".
"Honestly, we don't stop anywhere," said the team's lonely veteran, Lele Grissett. "We kept the same team, the same energy."
The effort and courage were not questioned Wednesday, but the move could have been more correct. Gamecocks started the second half with their 10º turnover, something that never goes well with Staley, the measure of all shipowners. Boston was largely ignored, but because of how the game went on – USC was constantly passing the oppressed Cougars, removing the need to prepare for a half-court attack and throw the ball at its star player.
What did Staley think after seeing his players in action for the first time in months?
"There is a lot of talent, no doubt about it in our team, but what separated us was the intangibles," said Staley. "I believe that our players who are on the squad now will have to grow to this. Until they have some experience, I hope it is not an experience in which we will lose. "
There was no chance this Wednesday. The Gamecocks led by 17 points before Charleston scored.
In just his second start to his career, junior Victaria Saxton made a double-double with 19 points and 12 rebounds. Boston, Grissett and Laeticia Amihere also scored doubles, while Cooke scored 18 points.
"I know I just need to help be a leader on the team, and that's what I'm doing," said Saxton. "COVID messed up a lot of things for everyone. It's really exciting to get back on the court and get back to the feeling of playing. "
Fifteen spins shone, but the dominance in transition, recovery and scoring was more than enough. Gamecocks will play three games in three days, starting on Saturday, with a better chance of smoothing out wrinkles.
"We gave up 18 offensive rebounds. It's not the number, it's how. They were taking balls out of our hands, "said Staley. "You see the emptiness of a Ty Harris, because Ty Harris can have that kind of conversation in the locker room and in the huddle. As coaches, we have to fill the void until everyone realizes something for which they can be responsible ".
Another incredibly talented team, just different.
But different does not mean bad.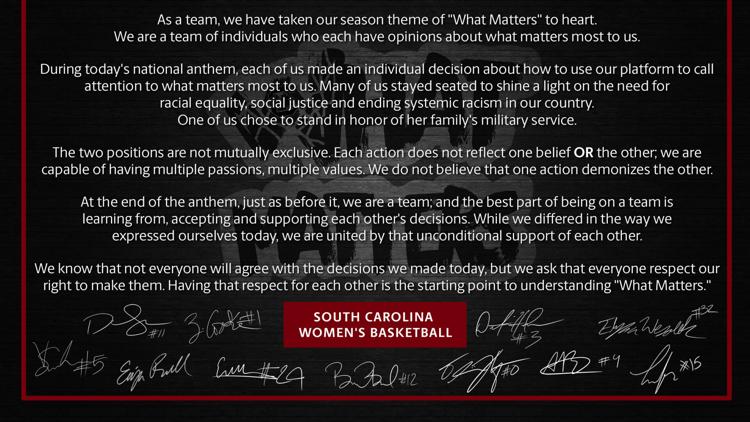 Anthem protest
All players, except junior Elysa Wesolek, remained seated for the national anthem. The coaches and support staff stood up.
The team released a statement at the same time.
"Many of us remained seated to illuminate the need for racial equality, social justice and the eradication of systemic racism in our country. One of us chose to honor his family's military service, "the statement said. "We know that not everyone will agree with the decisions we make today, but we ask that everyone respect our right to make them."
Staley was not sure whether the protest would continue this season.
"I didn't even get that far, I wouldn't be surprised if it weren't," said Staley. "I think we'll see it on Saturday. I think our players understand, by doing this, that it will cause some distress somewhere out there. They are ready to answer the questions that will come with it, and they are ready for the pats on the back that come with it. "